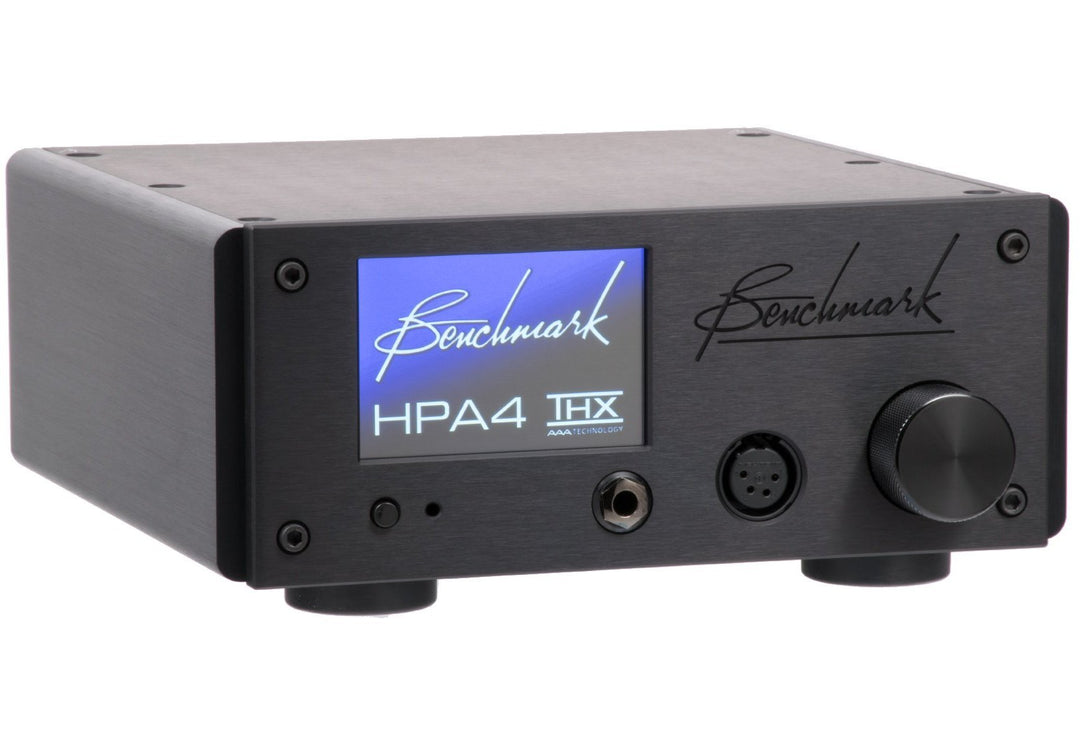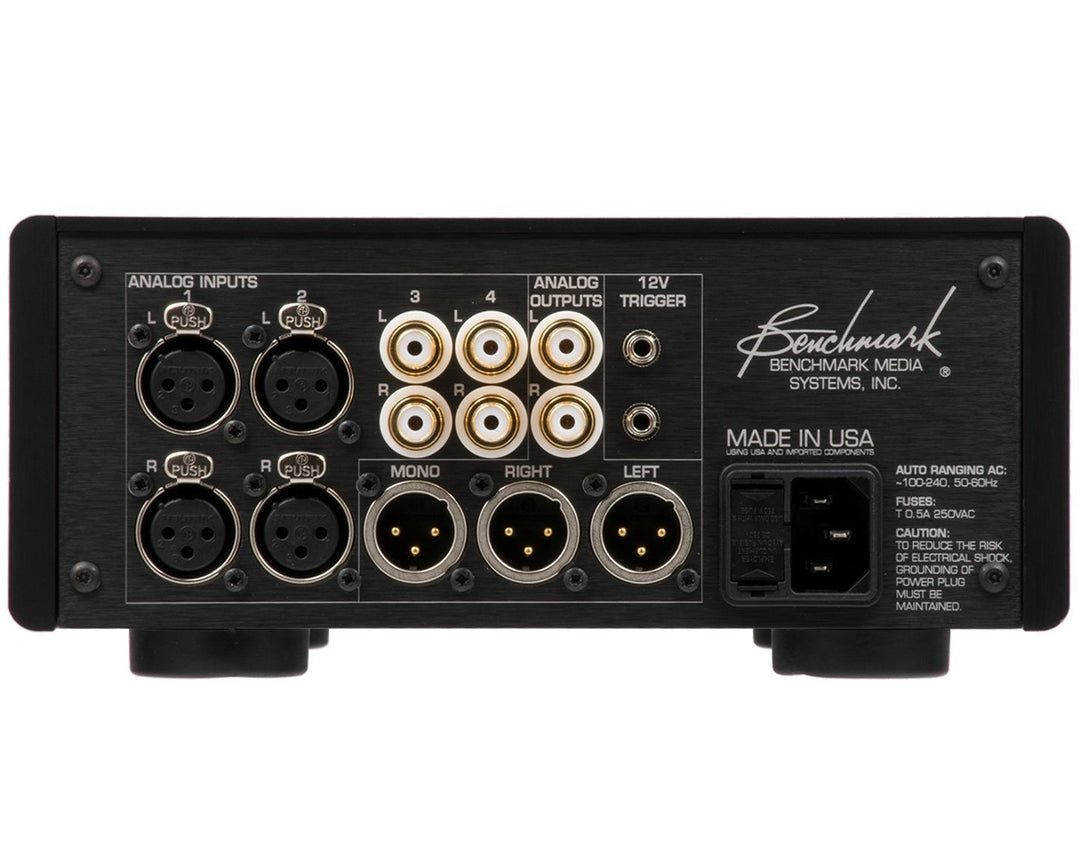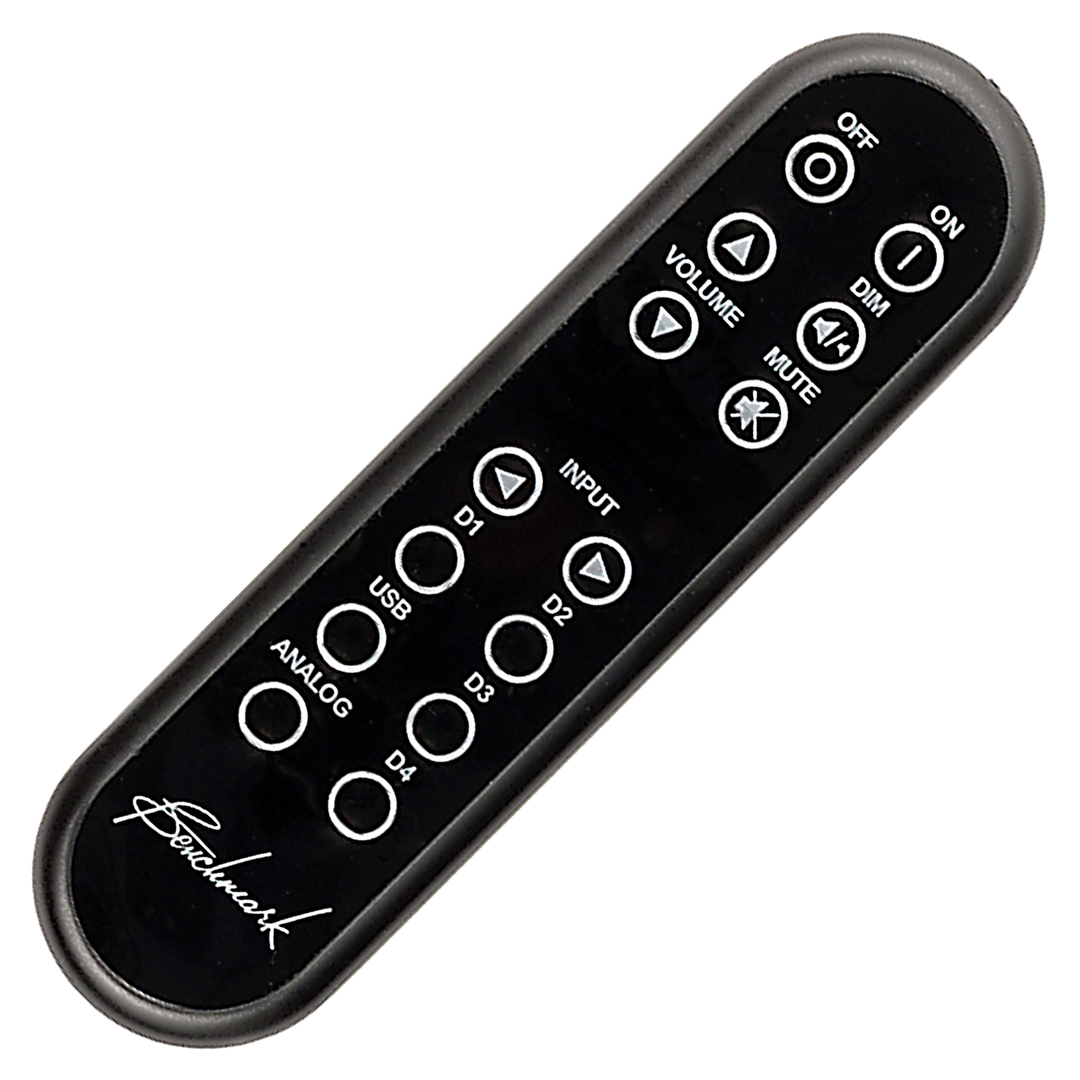 BENCHMARK HPA4 Headphone Amplifier / Preamplifier
 The HPA4 is Benchmark's newest headphone amplifier. Benchmark Media Systems, Inc. and THX, Ltd. have partnered to introduce the Benchmark HPA4 headphone/line amplifier featuring THX Achromatic Audio Amplifier (AAA™) technology.

THX AAA™ reduces harmonic, intermodulation, and crossover distortion by 20 to 40 dB to guarantee a realistic and fatigue-free listening experience. It accomplishes this using a patented feed-forward topology to null conventional distortion and noise mechanisms, resulting in the world's most linear amplifier. THX AAA allows the amplifier to reach its maximum output power and sound pressure level (SPL) without producing the distortion that normally accompanies increased output levels in traditional amplifiers.

Featuring the flagship THX-888 amplifier design, the revolutionary HPA4 headphone amplifier incorporates the same THX AAA technology that Benchmark uses in the AHB2 power amplifier. The HPA4 delivers sonic perfection. Hear the music without any contamination from electronic noise or distortion. The HPA4 delivers power, audio fidelity, speed and accuracy over an utterly silent background.
The THX-888 amplifier is driven by a Benchmark line amplifier that features relay gain control, relay input selection, and relay muting. The line amplifier incorporates the finest gold-contact relays available. The gain control has 256 steps in 0.5 dB increments. It also features a balance control. Relay closures are precisely timed to deliver silky-smooth volume changes. No other relay gain control offers this level of precision and performance. The HPA4 includes 4 independent 256-step attenuators: two for the L&R headphone outputs, and two for the L&R line outputs. To make this all happen, the HPA4 includes a total of 64 precision relays.
THD < -125 dB (0.00006%)
SNR > 131 dB, unweighted, 20-20 kHz
SNR > 135 dB, A-weighted
Frequency Response - 0.003 dB at 10 Hz, -0.001 dB at 20 kHz
- 3 dB Bandwidth exceeds 0.1 Hz to 500 kHz
Output Impedance, near 0 Ohms
Output Noise < 2.45 uV at Unity Gain, 20-20 kHz
Maximum Output Power, 6 Watts into 16 Ohms
Maximum Output Voltage, 11.5 Vrms into 300 Ohms
Crosstalk < -133 dB @ 1 kHz, -115 dB @ 10 kHz (XLR4)
High Current and High Voltage

The HPA4 easily delivers the high current and high power demanded by low-impedance headphones.

The HPA4 delivers the high voltages demanded by low-efficiency headphones.

The HPA4 is designed to drive

all types of headphones

with ease.
Wide 0.1 Hz to 200 kHz Frequency Response

Bass extends down below 0.1 Hz.

High frequency response extends beyond 500 kHz.

The 

HPA4 is fast, detailed, and phase accurate.
High Damping Factor

The near 0-Ohm output impedance of the HPA4 provides a very high damping factor.

The HPA4 maintains tight control of the headphone drivers.

Damping providing tight bass control.

The high damping factor 

reduces distortion.

The high damping factor provides a smooth and 

predictable frequency response

.
Clean and Quiet

The HPA4 maintains less than 0.00006% THD, even while delivering a full 6 W output into a 16-Ohm load.

The HPA4 remains remains clean when driving two sets of headphones simultaneously.
Recommended

 for our ABYSS AB-1266 headphone 
USA SALES ONLY PLEASE
SPECIAL ORDER, YOUR CHARGE IS NON-CANCELABLE, PRODUCT IS NON-RETURNABLE. EXPECT 1-2 WEEKS FOR DELIVERY.
---
In stock, ready to ship

Inventory on the way